Radiation tolerant computer proven to work for Aerospace Applications
A small lightweight computer that can resist damage from radiation exposure from low-orbit to deep space missions.
Background:
Radiation in space poses serious risk to computers on satellites and other spacecraft. Typically, computers in aerospace applications require expensive, custom-designed circuitry and shielding to fortify against radiation emitted by the sun and other celestial bodies. Such designs drive up costs, add size and weight to specifications and limit the ability to use Commercial Off-the-Shelf (COTS) technology.

As low-orbit satellite systems are deployed and commercial space companies are expanding, there is a growing demand for a COTS solution to radiation hardening.
Description:
The MSU technology, RadPC, uses multiple inexpensive COTS computer processors known as Field-Programable Gate Arrays or FPGA's. The FPGA's operate in parallel, so that when a radiation particle disrupts one, the others recognize the fault, can take over the computation and reprogram to self-repair themselves.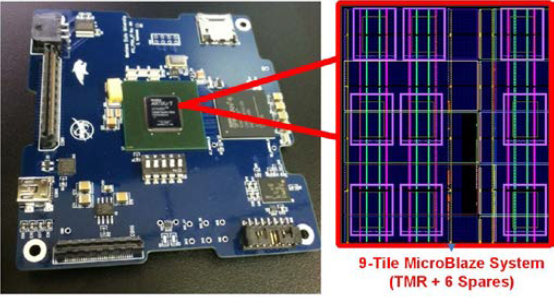 Benefits:
Video:

Opportunity:
Collaborate with ongoing research program with lunar mission deployment in 2021
Schematics and FPGA code available for licensing
Researchers are available for consultation and R&D projects
Contact:
Nick Zelver
(406) 994-7706
nzelver@montana.edu